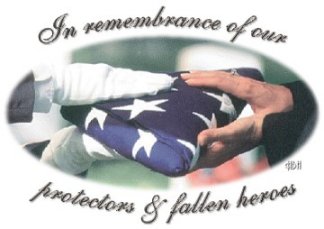 In remembrance of our fallen brothers who have passed away since leaving Vietnam... May their souls rest in peace as they march along with our brothers that we left on the battlefields of Vietnam...
God Bless them all...
Frank Estrada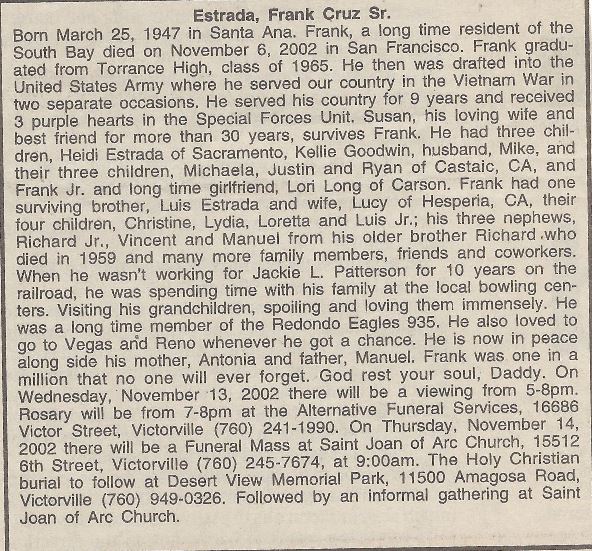 Major James E Bryan (West Point Graduate Class of 1965) who was the Company CO of Charlie Company in 1968 and was WIA in June. He returned to the field to command another 12th Cav Company later in the Vietnam War. He was killed during a training mission out west in the USA on Sept. 14, 1977. He is buried at West Point next to his father, who was the Superintendent of West Point in the late 50's, and his brother who was KIA in Vietnam.

Spec. 4 David M. Kinch served with C Co in 1968. He was severely wounded in June of '68 and received a Purple Heart Medal and was discharged due to his injuries. He died October 2, 2009 and was survived by his wife, Debbie. He was buried at Great Lakes National Cemetery.
Henry Russell Eidson Jr., 60, of Brusly, MS, passed away Monday, Nov. 21, 2011, at the Louisiana War Veterans Home in Jackson, MS. He was born Jan. 30, 1951, in Winona, Miss.
He grew up in Denham Springs, where he graduated from Denham Springs High in 1970. At age 19, he served in the Army in Vietnam from April 1971-April 1972 with C Company, 1st BN, 12th Cavalry, 1st Cavalry Division.
Darrell G. Houston, Col. Ret., company commander of Co. C, 1st Bn (Abn) 12th Cav, 1st Cav. in 1966, died on 24 Mar 2012 after a long, valiant fight against cancer. He lived in Slingersville, New York and is survived by his wife Pat, three sons, and a daughter.

Darrell was a West Point graduate (Class of 1960). His three sons are all USMA graduates and his daughter is married to a USAF officer. He and his family have made a significant contribution to our nation's defense.

In his West Point 50th Reunion book, Darrell made the following statement which should be of interest to all 12th Cav veterans of the Vietnam War. "The two most important areas of my life were serving with troops in combat and my family. I was privileged to serve with some of the best trained, most professional and dedicated troops, in the best Army in the World. I am always hopeful for the future of our country when I reflect on how these young men answered their country's call to duty and served with distinction. During Vietnam they gave us an Army far better than many can comprehend."
Richard D. Hanzel , age 64, of Kirtland, OH, died Dec 4, 2011.

Dear father of Garrett, Justin, Christianne, and Jordan; former husband of Carol (nee Predovich); son of the late Florenz and Marie (nee Arth); oldest brother of Gail, Karen, Jacqueline, Edward, Marie, Paul, Dianne, Michael, Judith, David, and Joseph. A decorated U.S. Army veteran, Richard served as an infantry squad leader with C 2/12 Cavalry, 1st Air Cavalry Division during the Vietnam Conflict.
Dennis R. Sutherland died Oct 17, 2011 in Chicago, IL.
Beloved husband of 42 years to Treva; dear father of Daniel (Cathy) and Ryan (Christina); devoted grandpa of David, Amber and Brandon; loving brother of Russell (Noreen); fond uncle of Sheila (Mark) Cotton; Cherished son of the late Russell and Margaret (nee Carlson) and son-in-law of Georgia Green; dear friend of many. Past Commander and Life Member of the V.F.W. Post 8322. A decorated U.S. Army veteran, Dennis served with C 1/12 Cavalry, 1st Air Cavalry Division during the Vietnam Conflict.
Dimitry Ignatiev, 50, died from Leukemia on Feb 27, 1995 in Milwaukee, WI. He was born in 1945 in Milwaukee. He was preceded in death by his parents, Anatole and Natalia Ignatiev, and survived by his wife, Kristin Brown Ignatiev and their children, Matthew, Emily, and Peter. Spec 5 Ignatiev served as a Combat Medic with C Co. 1/12 Cavalry, 1st Cavalry Div from Dec 1967 to December 1968.
Raphael Lynn "Buggs" Greenwell, 63, Culvertown, Ky, died Saturday, Nov. 27, 2010, at his residence. He was born and raised in Culvertown. He was a retired employee of G. E. Appliance Park in Louisville with 35 years of service. He was an Army veteran and a member of Immaculate Conception Church, Culvertown. He served in C Co 1/12, First Cav Division in Vietnam during 1968 and 1969 as an airmobile rifleman and was known by the nickname Buggs.


Bob McClellan, LTC , Retired, A dear friend, mentor and leader who was an original member of Charlie Company, 1/12th Cavalry from 1965 to 1966, passed from this life on Sunday, November 14, 2010. Robert W. McClellan, age 69, was born in Summit, New Jersey and graduated from the University of North Carolina, Chapel Hill, in 1963.
He enlisted in the army and received his commission as an infantry officer upon graduation from OCS at Ft. Benning, Georgia. He subsequently completed airborne training and joined Charlie Company, 1st BN (Airborne) , 12th Cavalry, 1st Cavalry Division at Ft. Benning. He served as a platoon leader in C Company in Vietnam. He served in infantry and airborne infantry units in the US and in the Republic of the Congo on a security mission to assist the loyalist government and mercenaries, in Germany and in Vietnam, where he served two tours. He served a security assistance tour in Lebanon in 1983 where the Marine Corps barracks was bombed. He was assigned as the Army liaison officer to the Marine Corps Education Center in Quantico, where he was a primary contributor to the development of the Marine Corps anti-terrorism program. Among his military honors were the Combat Infantryman's Badge, Legion of Merit, two Bronze Star Medals for Valor, two Purple Hearts, Air Medal, Army Commendation Medal and Defense Meritorious Service Medal. Survivors include two children, Robert Joseph McClellan of Lorton, VA and Elizabeth Jernigan of Linda, California. Internment at Arlington National Cemetery.
Charles Ray Hillis, Sr., Command Sergeant Major, U.S. Army, (Retired), age 76 of West Melbourne, Florida (Formerly of McMinnville, Tennessee) died Monday, December 07, 2009.He was born on March 26, 1933, in Campaign, Tennessee. He attended the Warren County school system prior to entering the army in August of 1948 at 15 years of age. He was assigned to occupation duty with the 24th Infantry Division in southern Japan. There he attained the rank of Corporal. He was discharged as a minor in October of 1949. Re-enlisting in the Army in March of 1950, he volunteered for jump school at Fort Benning, Georgia, graduating in June of 1950. He was assigned to the 82nd Airborne Division at Fort Bragg, North Carolina. While serving in the 82nd Airborne, he received his high school equivalency. In December of 1951, he was reassigned for duty with the 2nd Battalion, 187th (Airborne) Regimental Combat Team in Korea. While engaged in hand-to-hand combat during the prison riots on Koeji Do Island in May of 1952, he was seriously injured and was evacuated to a hospital in Japan. Upon recovery and a short leave, he again volunteered to return to his Regiment in Korea, where he served as a Platoon Sergeant on the front line until the war ended. After the Korea War, he served as Jump School Instructor, Pathfinder Platoon Sergeant and First Sergeant with the 11th Airborne Division and the 101st Airborne Division at Fort Campbell, Kentucky. He volunteered for Special Forces Training in 1958. He then served with the 1st Special Forces Group stationed on Okinawa until December 1961. After serving in Vietnam with the 1st SF Group, he returned to Vietnam in August of 1966, where he served two tours of duty with Alpha and Charlie Companies, 1st Battalion, (Airborne) 12th Cavalry, 1st Cavalry Division. While with A Company, he participated in more than seventy-five combat air assaults and his company was awarded the Presidential Unit Citation for a singular combat operation.
Randy Wilson Harwell, Harwell, age 62, of Cornelius, NC died Monday, November 23, 2009 at Levine Dickson Hospice House. Born September 3, 1947 in Iredell County, he was the son of the late Russell L. Harwell and Kay Mills Harwell. Randy was a US Army veteran of Vietnam, a painting contractor, a member of American Legion #86 and a member of the Veterans of Foreign War #1072.
Elmer Davis of Charlie Company writes, "Randy arrived in Viet Nam the first part of December 1967, to the 1st Cav's Charlie Company, 1/12th, 2nd Platoon, 1st squad. He was my 'Mother Hen' when I arrived in February of 1968. He took very good care of me and was always there to do anything for anyone. He was a very giving person and gave of himself daily. He would volunteer for the bad details. He went to the gun squad the last part of May 1968. He was injured in an ambush on June 23, 1968 receiving severe damage to his right knee and elbow. His entire right side had taken several bullets. Later in life he had to have his left knee replaced because of the extra stress caused to it by his injured right knee. All of his battles were, on the battlefield and in life, fought with bravery, courage and loyalty."
Robert E. Balsley, passed from this life on August 2, 2009. He lived in Hooven, Ohio. He served as a draftee in Charlie Company, 1st BN, 12th Cavalry in 1968-69. He left Vietnam as a SGT E-5. He is survived by his long time companion, Sarah Rohrer Lewis, daughter Carrie Balsley and son David Balsley. He was buried at the Maple Grove Cemetery in Cleves, Ohio with full military honors.
Gary Lee Uliano, Col. (Ret), 64, of Orlando Florida went home to be with his Lord on March 28, 2009. Gary served as Company Commander of C Co, 1/12 Cav from February 1969 to August 1969. He then served as Assistant G3 with HHC 1st Cav Div (Air Mobile) from September 1969 to February 1970. He was awarded the Bronze Star Medal for his distinguished service. Gary proudly served in the US Army for 26 years in a wide variety of command and staff positions. He has spent the past 17 years in the defense industry managing simulation, training and support programs for Loral and Lockheed Martin. Gary was a member of River Run Christian Church in Orlando Florida. He was an avid outdoorsman who enjoyed hunting and fishing with his family and friends. Gary was a Florida Gators fan. He is survived by his loving wife of 44 years, Pat Uliano; his daughter Marcia Bayard and his son Peter Uliano. Gary was laid to rest at Bushnell National Cemetery in Florida. He will forever be remembered. He will forever be missed. His son, Peter, can be contacted at peteruliano@msn.com
Ronald "Scott" Taylor 64, on Sunday January 18, 2009 at the Veteran's Administration Nursing Home in Washington D.C. from complications of diabetes, brought on by his exposure to Agent Orange during the Vietnam War. Mr. Taylor, an Arlington, VA native, graduated from Virginia Tech as a member of the Corps of Cadets, and commissioned into the Army as an infantry officer in 1966. He had two combat tours of duty in Vietnam with the 1st Cavalry Division, and the Military Advisory Command, Vietnam. He received numerous decorations, including the Distinguished Service Cross, our country's second highest award for combat valor after the Medal of Honor.
At the start of the Tet Offensive in January 1968, Lt Taylor's unit, C. Co. 2/12th Cavalry was heavily engaged with the enemy in the Que Son Valley. Lt. Taylor's platoon was encircled by an NVA regiment that repeatedly tried to overrun his small unit. During the 26 hour fight, 20 of his 50 men were wounded. His Distinguished Service Cross citation noted that Lt Taylor rallied his men while constantly exposing himself to the enemy fusillade, moving from position to position, calling for and adjusting a concentrated ring of friendly artillery fire. Charles Krohn wrote in his memoir, The Lost Battalion, that over 7,000 rounds of division artillery were fired on top of and around the besieged men to hold off the NVA.
David Carmody, 61, of Kalamazoo, Michigan passed away March 28, 2009. He was the 3rd Platoon Leader of Charlie Company, 1/12th Cavalry during 1968. His military decorations included the Silver Star, awarded for his actions on May 28, 1968. He is survived by his wife and two children.
Donald Garvin, a rifleman with the 3rd Platoon, Company C, 1st Battalion (Airborne), 12th Cavalry Regiment from 1966-67, passed away suddenly in December 2008. Donald is survived only by his two sisters from Ridgeland, S.C. He was a wonderful soldier and a friend to the entire platoon.
LeRoy Shabram of Neligh, Nebraska passed away on December 14, 2008. He served as an assistant gunner for the 2nd platoon, Company C, 1/12th Cavalry in 1968 and in Headquarters Company 1st Brigade in 1969. He was intending to attend his first Cav reunion in 2008 when he found out that he had cancer and had to have chemo instead.

Mike Sinkovits, of Parkton, NC passed away on December 3, 2008. He served in Company C, 1/12th Cavalry for a few months in 1966 he then was transferred to Company A, 1/12th Cavalry until he was wounded in August, 1966. He was a good Airborne/Ranger soldier with three tours in Nam, visited Arlington cemetery every year on Veterans Day and put flowers on all our 1/12th Cavalry gravesites. He was involved with the establishment of the 1/12th Cavalry Airborne Memorial in the Airborne museum in Fayetteville.
Kenneth "Dingle F**K" Walker, 60, of Somerville, New Jersey died just prior to Veteran's Day, 2008. He would have been 61 on New Year's Eve. He served in Company C, 1/12th Cavalry in 1968 and 1969. He was awarded the Bronze Star with a "V." Ken attended one Cav Reunion in Washington DC in 2004 and enjoyed it greatly.
Calvin A. Gooley, 63, died August 2, 2007 in Macomb, Michigan. He was born 1 May 1944 and served in the 3rd Platoon, Charley Company, 1st Battalion, 12th Cavalry, from May, 1967 to May, 1968. He was a good soldier and a good guy.
Jackson, Handy of Ellen Woods, Georgia passed away from a fatal stroke April 22, 2008. He was a member of Company C, 1/12th Cavalry. You can send a card to his wife or contact his daughter at : Wife--Annette Jackson, Daughter--Lou Jackson, 135 Bond Lake Dr., Ellen Wood, Ga. 30294.
Gerry Spencer past away November 24, 2007 in Buffalo N.Y. Gerry was a member of the 2nd Platoon of Charlie Company, 1st Battalion (Airborne), 12th Cavalry from 1965 to 1966. He had been battling cancer for some time. Our prayers and condolence goes out to his lovely wife Barbara and the rest of his family. He serve his Country proudly. We will miss him.
Robert "Bobby" Enyeart, 59, died December 24, 2006. He was born in Marion, Indiana and was a 1966 graduate of Marion High School. He married his high school sweetheart, Donna Rice on October 14, 1967; she survives. He was a self-employed carpenter and worked with his father for 30 years at Bob Enyeart and Son before retiring. He was a US Army Vietnam Veteran earning rank of E5 Sergeant, and the Bronze Star, serving in 1st Calvary Division as a radio man with Company C, 1/12th Cavalry in 1968-69. He and his father founded Mississinewa Skyhawks Model Airplane Club.
Walt Gassman died February 28, 2007. Walt was the Communication RTO and passed away due to cancer at Carnie, Nebraska. Walt was an original member of Company C, 1/12th Cavalry he joined the army from South Dakota where he grew up on the Sioux Indian Reservation. After his army tour of duty he went to work with the Union Pacific Railroad. In April, 1966 he was next to Captain McMillan and Paul Hattabaugh the day they were killed on "Operation Lincoln" in Western Pleiku Province, Chu Pong Massiff right on the Cambodian Border.
CPT Charles R. "Chuck" Campanella...
CPT Charles R. "Chuck" Campanella, Midland (Big Sring), TX went to Fiddler's Green 4 Oct 2012. Services in Memoriam were held 11 Oct 2012 at Myers-Smith Funeral Home Big Spring, TX.

CPT then (1LT) Campanella served in Charlie Co. 1/12 from Jul 1966 thru Feb 1967, assigned to B 2/19th Artillery, he was attached to Charlie Company as the FO w/BillMartin as his RTO until Bill rotated back to Ft.Bragg.

1LT Campanella is best remembered by those who knew him for his quick thinking and reactions to the attack on LZ Bird 27 Dec 1966 when he issued the command to load two (2) bee hive rounds into the 105s, the only heavy weapons that had not been blown up and to fire them at zero level. This fast action and leadership by LT Campanella temporarily defrayed the oncoming attack of the 22d NVA Regiment, outnumbering us 5x1, gave us a chance to regroup and fend off the enemy until we could bring in ARA and Artillery Support from LZ Hammond.

At least 12 of us still living today will always be thankful that he was there to take command of Charlie Co. that night as all of our Officers and Sr. NCOs were KIA and Serious WIA instantly.

Campanella entered service 31 Aug 1965, assigned to Ft. Richardson, AK in Admin. He applied for OCS Infantry but accepted Artillery when the opening came sooner for Ft.Sill, OK. After graduating from Ft. Sill, attended jump school at Benning and was assigned to the 1st Cav from there. He served a 2d tour in VN w/5th Special Forces (1970-71) and was discharged 20 Oct 1971 at CPT Rank.

CPT Campanella was awarded 2 Silver Stars, 2 Bronze Stars w/V, 3 Ar Coms, 3 Air Medals, CIB, Master Parachutist Wings, Vietnamese Parachutist Wings, and an assortment of Unit Citations.

He leaves behind 5 Daughters, 1Son, 9 Grandchildren, 1 GreatGrandson, 3 Dogs,4 Cats and 13 Raccoons. Graveside Burial Services were held Friday 1400 Hrs., 12 Oct 2012, at Texas State Veterans Cemetery, Abilene, TX. w/the Family in attendance. Thomas Crabtree C Co 1/12 1966-67, presented the Cav Stetson and 6 Yellow Roses to his daughters.

Keep them in prayer in their time of grief.

SGT Thomas Lon Crabtree-C 1/12 1966-67.
Taps:
We sadly announce that Bob Magruder, 12th Cavalry Regiment President, passed away on 16 Oct 2012, at 0730.
Visitation will be at at Fern Creek Funeral Home, Bardstown Road, Louisville, KY on Thursday, 18 Oct. from 1400-2000 hours. with the funeral on Friday at 1000 hours at Fern Creek Funeral Home.
Burial will be Monday, 22 Oct, at 1000 hours in the Veterans Cemetery, in Radcliff, KY. The Veterans Cemetery is on Highway 31W next to Ft. Knox, KY. Burial is for family, close friends, and any 1st CAV/12th CAV members that would like to attend.
In Memory ofJames Lee Bernard Sr. November 28, 1947 - February 7, 2013

BERNARD, James Lee Sr., age 65 of Dayton passed away Thursday, February 7, 2013. He is preceded in death by his parents, James Huston and Myrtle Hornsby Bernard; sister, Regina Kenney; brother, Terry Bernard; and grandson, Micah Lee Bernard. James is survived by his spouse of sixteen years Linda Boyce; sons, James Lee Jr. (Sharlyn), Christopher (Deanna); daughter, Cherish (Randy) Medlock; grandchildren, McKaylee, Rejeana, Megan, Christopher, Nathaniel, and James; as well as sister, Tracy (Michael) Roberts. James was a U.S. Army Airborne Specialist 4 and received a Purple Heart for his time in Vietnam in 1964-67. A memorial service will be held at 3pm Sunday, February 17, 2013 at TOBIAS FUNERAL HOME- BELMONT CHAPEL. The family will receive friends from 2pm until the time of services. Memorial contributions may be made to The Wounded Warrior Project at www.woundedwarriorproject.com. Condolences may be expressed to the family at www.tobiasfuneralhome.com.
Served with Charlie Company in 1965-66 2nd Platoon 2nd Squad with Jay Snyder Platoon Leader...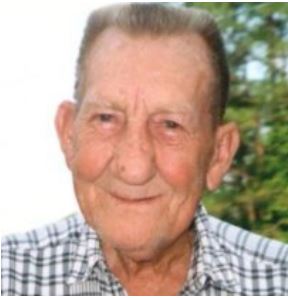 Wallace Ward Hood, Born in Pineville, NC, Mr Hood was retired from the US Army after 22 years of service. Mr Hood proudly served in Vietnam with Charlie Company 1/12 of the 1st Cavalry Division and with the 82nd Airborne. He received the Purple Heart, National Defense Service Medal, Parachute Badge, Combat Infantryman's Badge, Vietnam Service Medal, Vietnam Campaign Medal, Air Medal, 2 Good Conduct Medals, and the Vietnam Cross of Gallantry with Palm as well as other decorations. He enjoyed his grandchildren and great grandchildren as well as fishing and vegetable gardening. His wife, Betty canned everything that he grew.
Surviving are his wife of 53 years, Betty Jones Hood; his son William Hood and his girlfriend, Kim from Peachland NC; his daughter, Glenda Broderick and husband Dennis of Melbourne, Fla; his brothers Robert Hood of Fort Mill NC, Clyde Hood of Boomer NC and George Hood of Pineville, NC; his sisters, Myrtle Broome, Sara Culp, and Mary Rayfield, all of Fort Mill; three grandchildren, Kristen Gish (Ryan), Timothy Broderick and Stephaniw Broderick; and three great grandchildren, Riley, Declan and Reagan Gish.
Memorial Contributions should be sent to the Wounded Warriors Project, Box 758517 Topeka, KS 66675
Sergeant Hood was an original member of Charlie Co through the 187th days and went to Vietnam on the USNS Geiger. He was my Weapons Squad Leader while I was in charge of the 2nd Platoon C Co 1/12 (abn) 1965-66. He was one of a kind and will be missed by all his Charlie Co brothers..
Letters of condolances can be sent to Wallaces's Wife Betty at....
***************************************************
Recently I found the following.
Kenneth Edward Hudnall 59, of EastBank, West Virginia, died on January 24, 2010. He was born on August 3, 1950.The son of the late Frank and Joyce Mullens Hudnall. Kenny served in Vietnam with Company C, 1/12 Calvary, 1st Calvary Division. He is survived by wife Danielle Yauger Hudnall, and children Edward and wife Brandi, Travis, Ryan Yauger, and Chris Layne.
Kenny joined the unit the end of February 1970. He was assigned to the 3rd platoon, 1st squad,(Mickey Wright, Squad leader). Late March he started carrying the M60, until contacting malaria the end of April. After that he was supply rep at the company rear.

*************************************************
Gene Menz, 52, died on February 17, 2000. Gene was born on July 22, 1947 near Pittsburg, Pennsylvania. He is buried in the Powhatan Community Cemetary, Powhatan, Virginia.
Gene joined the unit not long after we left Cambodia. He was assigned to the 3rd platoon, 1st squad, as Squad Leader.
**************************************************
COL GILES F. CRIDER (Ret) Platoon Leader, 1969-1970; Recon Platoon Leader, 1970
JACKSONVILLE: Memorial services for COL Giles F. Crider, 64, US Army, Retired, will be Thursday, March 21, 2013 at 1 p.m. at St. Charles Borromeo Catholic Church, in Jacksonville, with Father James Macey officiating. Burial will be in Arlington National Cemetery, with full military honors, at a later date. The family will receive friends at the church one hour prior to the service. COL Crider died Saturday, March 16, 2013 at his residence.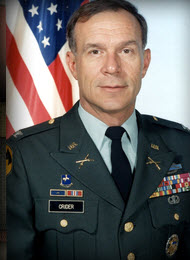 Giles F. Crider began his military career as an enlisted soldier in 1968 and attended Basic and Advanced Infantry training. He was selected to attend Officer Candidate School and was commissioned as an Infantry Officer in April, 1969. COL Crider spent the next 30 years on Active Duty in a variety of Command and Staff positions that spanned the globe from Jungle School in Panama, combat in Vietnam/Cambodia and numerous assignments in Europe and all over the United States. He commanded Infantry units at the Platoon, Company, Battalion and Brigade levels. As a Captain he commanded two Rifle Companies and the Third United States Army Non-Commissioned Officer Academy. He also commanded a Battalion in the prestigious Berlin Brigade during the Cold War. As a Colonel he commanded an Infantry Brigade Task Force in Fairbanks, Alaska. His many staff assignments included Aide-de-Camp to the Commanding General, 9th Infantry Division; North Atlantic Treaty Organization (NATO) War Planner in Heidelberg, Germany; Chief of the Infantry Team, the General Army Staff, at the Pentagon, where he also served on the Army Staff and the Joint Chiefs of Staff, twice; special weapons advisor to the Chairman of the Joint Chiefs of Staff, General Colin Powell; Chief of Staff for the Sixth United States Army, Presidio of San Francisco; his last assignment was the Chairman for the Department of Military Strategy, Plans and Operations at the United States Army War College, Carlisle Barracks, Pennsylvania. COL Crider's military awards and decorations include the Bronze Star for Valor and the Silver Star for Gallantry in Action.
Upon retirement from the US Army in 1998, COL Crider was hired by the Department of Justice (latter the Department of Homeland Security) to help stand up the Center for Domestic Preparedness, the nation's only federal counter terrorism training center at the former Fort McClellan, Alabama, as the Director for Plans, Security and Operation. Following the tragedy of September 11, 2001, COL Crider was appointed as the Chief of Staff for the Center of Domestic Preparedness and led the incredible growth of the Center in numbers of 1st Responders trained, huge budget increases and significant employee growth. He forged relationships with the Secret Service, Federal Bureau of Investigation, Environmental Protection Agency, Federal Aviation Agency and the United States Attorney's Anti-Terrorism Task Forces. After three years, as the Chief of Staff, COL Crider was appointed the Director for Special Projects and Initiative and was instrumental in the Center's outreach efforts. He sponsored and hosted the Federal Law Enforcement Training Center's Immigration, Customs Enforcement training for the Alabama State Troopers and developed training for the National Bomb Squad. COL Crider was also a speaker for numerous national conferences and seminars on terrorism and weapons of mass destruction.
GENE RAYMOND TETZLAFF, age 58, of Cleveland, entered into Eternal Rest on Oct. 10, 2007. Preceded in death by his beloved parents, Wilbur and Jeanette (nee Eggert); dear father of David and Andrea; beloved brother of William (Charlene), Darlene Matthews, Debbie Kreilach, Denise Ontko, Joan (Karl) Meyer, John (Barb) and Jim. Veteran of the U.S. Army Viet Nam. In lieu of flowers, memorials to the Gene Tetzlaff Memorial Fund. The family will gather in Celebration of Gene's Life at HUMENIK FUNERAL CHAPEL, 14200 SNOW RD., BROOKPARK, ON SUNDAY 2-4 AND 6-8 P.M., where Funeral Services will be held on MONDAY AT 1 P.M. Interment at Ohio Western Reserve National Cemetery. 1-877-HUMENIK www.cleveland.com/obits
Gene served with Charlie Company in 1969

Col. Roderic E. Ordway, 74, a highly decorated Army colonel who was later an investment adviser and consultant in the private sector, died Sept. 24, 2010 at Georgetown University Hospital. He had acute leukemia. Col. Ordway joined the Army in 1958 after graduating from the U.S. Military Academy at West Point, N.Y. He was the battalion commander of 1st Battalion, 12th Cavalry Regiment from Dec 1969 to May 1970 in Vietnam War and operations officer in Cambodia. His final active-duty assignment, in 1980, was deputy chief of staff for personnel at the Pentagon. His military decorations include the Silver Star, three awards of the Legion of Merit and three awards of the Bronze Star. Since 1997, Col. Ordway had been the managing director of Lafayette Investments in Washington. From 1982 to 1997, he was a vice president at R.J. Moore & Associates, an engineering firm in Annapolis. Roderic Edward Ordway was born in West Point, where his father, an Army officer, was stationed. He was a 1953 graduate of Georgetown Preparatory School in North Bethesda. In 1972, he received a master's degree in business administration from American University. He had been a District resident since the early 1970s. His paternal great-grandfather was Brig. Gen. Albert Ordway, who fought for the Union during in the Civil War and helped formed the first National Guard in Washington. Ordway Street in Northwest is named after him, according to his family. Col. Ordway's memberships included the West Point Society of D.C., Chevy Chase Country Club and Our Lady of Lourdes Catholic Church in Bethesda. He was a volunteer with the Wounded Warrior Program at Walter Reed Army Medical Center and helped raise money for the Washington Jesuit Academy. His first marriage, to Jeanne Hundley, ended in divorce. Survivors include his wife of 24 years, Nancy Bradford Ordway of Washington. He was laid to rest with full military honors in Arlington National Cemetery on January 11, 2011.
SSG (Ret.) Jerry Glenn Barfield April 12, 1945- November 17, 2013

SSG (Ret.) Jerry Glenn Barfield April 12, 1945- November 17, 2013 Fortson, GA- SSG (Ret.) Jerry Glenn Barfield, 68, of Fortson, GA died Sunday, November 17, 2013 at his residence. Funeral Services with full military honors will be held 11:00 AM, Wednesday, November 20, 2013 at McMullen Funeral Home Chapel, 3874 Gentian Blvd. Columbus, GA 31907 with Rev. Randy Comer officiating. An interment will be held at Ft. Mitchell National Cemetery. The family will receive friends Tuesday evening from 6:00-8:00 PM at the Funeral Home. Mr. Barfield was born April 12, 1945 in Columbus, GA son of the late Rev. Marvin G. Barfield and Kathryn Grimes Barfield. He served in the US Army, a member of the 1st Calvary Division serving in Korea and in the Vietnam War. During his service he received numerous awards including the National Defense Service Medal, Republic of Vietnam Campaign Medal, Vietnam Service Medal with 4 Bronze Service Stars, Combat Infantryman Badge, Air Medal, Bronze Star Medal, Armed Forces Reserve Medal, Vietnamese Cross of Gallantry with Palm, 2 overseas Service Bars, Expert Qualification Badge (M-16), Army Service Ribbon, Overseas Service Ribbon (Num 1), Army Commendation Medal with 1 Bronze Oak Leaf Cluster, Army Good Conduct Medal (2d Award), and the NCO Professional Development Ribbon (Num 3). He was a member of River of Life Church in Phenix City, AL. Survivors include his wife of 49 years; Sharon D. Barfield of Fortson, GA, daughters; Tammy Hightower (Barry) of Jackson, AL, Kathy Reeves (Joey) of Warner Robins, GA, sister; Sherry May of Mobile, AL, brother; Don Barfield (Sandra) of Jacksonville, FL, grandchildren; Brandon Nelson, Ashlyn Jarman, Jacob Jarman, Cooper Hightower, Samantha Reeves, Braxton Reeves and several nieces and nephews. - See more at: http://www.legacy.com/obituaries/ledger-enquirer/obituary.aspx?pid=168091622#sthash.XlTRO6jI.dpuf Read more here: http://www.legacy.com/obituaries/ledger-enquirer/obituary.aspx?pid=168091622#storylink=cpy
Joseph F. Bonetti
LTC (Ret.) Joseph F. Bonetti, 66, of Maplewood, N.J., died on Friday, Dec. 27, 2013. Born in New York, N.Y., Joseph lived in Maplewood for the past 29 years. He was a banker for Brown Brothers Harriman & Co. in Jersey City, N.J., for many years before retiring in 2006. Joseph graduated from Fordham University, New York, with a B.S. in economics.
He served as an enlisted man with C-1/12 Cavalry, 1st Air Cavalry Div. from Dec 67 to Dec 68 during the Vietnam War. Joseph retired as a lieutenant colonel after serving in the New York State National Guard and the U.S. Army Reserve. Joseph was a member of the 69th Regiment Armory, Manhattan, N.Y.
He was the beloved husband of Elizabeth McParland Bonetti; devoted father of Laura and Christopher Bonetti; dear brother of Andrew Bonetti and his wife, Suzanne; loving son of the late Francis J. and Patricia (LaBarbara) Bonetti. In lieu of flowers, donations to the Jimmy V. Foundation for Cancer Research, 106 Towerview Court, Cary, N.C. 27513, or St. Barnabas Hospice, 95 Old Short Hills Rd., West Orange, N.J. 07052, would be appreciated.
A Funeral Mass was held at Our Lady of Sorrows Church, 217 Prospect St., South Orange, N.J., on Friday, Jan. 3, with interment at Brig. General William Doyle Veterans Cemetery, Wrightstown, N.J.
Bob Lindquist
Colonel Robert E. "Bob" Lindquist, U.S. Army Retired, 81, of Panorama Drive, Rock Springs Community, Lavonia, passed away Saturday, April 22, 2017, at his home.
Born on November 21, 1935, at Schofield Barracks, Hawaii, he was the son of the late Roy E. Lindquist Sr. and Alice Murch Lindquist. Col. Lindquist was a 1958 graduate of the United States Military Academy at West Point and received a Masters degree from George Washington University. Col. Lindquist retired after 28 years of service from the U. S. Army, where he served two tours of duty in the Vietnam War. During his first tour, he served as Company Commander of C Company, 1st of the 12th, First Cav. Division and his second tour, he served as District Senior Advisor for the Trang Bang District of Vietnam.
Col. Lindquist was a former Real Estate Agent for Paradise Reality, a member of the Hartwell First United Methodist Church and served as an Usher. He was a member of the American Legion Post #109, Hart County Golden K, where he received the Andy Stackhouse Award, received the Hartwell Rotary Club's Four Way Test award, volunteered for several years for Meals on Wheels and directed the AARP Tax Aide Program for 18 years.
Survivors include his wife, Norma Elsen Lindquist; two sons: Robert "Rob" Lindquist Jr. and Catherine of Ellerslie and Karl Lindquist and Renee of Columbia, S.C.; a daughter, Debra Hooker and Michael of Ft. Collins, Colo.; six grandchildren: Robert and Cydney Lindquist, Tyler and Samantha Lindquist and Erin and Claire Hooker; a brother, Roy E. Lindquist Jr. and Sara of Salinas, Calif. also survives.
Funeral services will be held at 2 p.m. Thursday, April 27, at the Hartwell First United Methodist Church with Dr. R. Allen Stewart officiating. Burial with full military honors will be at the Nancy Hart Memorial Park.
In lieu of flowers, memorials may be made to the Hartwell First United Methodist Church, 200 E. Howell Street, Hartwell, GA 30643 or to the Hart County Golden K Ramp Fund, P.O. Box 832, Hartwell, GA 30643.
The Strickland Funeral Home of Hartwell is in charge of all arrangements. Online condolences can be sent to the family at www.stricklandfh.com.
Gary Louis Bolte, 68, Union, passed away Thursday, April 13, 2017, at his home.
Gary, son of the late Alfred Bolte and wife Gladys, nee Dierking, was born Aug. 30, 1948, in Beaufort. Gary received his education in Union and graduated from Union High School in 1966. He served his country in the U.S. Army during the Vietnam War, from July 22, 1969, to April 26, 1971, where he earned several awards. Those awards included the Vietnam Service Medal with two Bronze Stars, National Defense Medal, Republic of Vietnam Campaign Medal, Combat Infantry Badge, Air Medal, Army Commendation Medal, and the Purple Heart.

Gary was united in marriage to Brenda Klierthermes July 5, 1985, in Union, and the couple made their home in Union. He was employed in maintenance and retired from RR Donnelly in 2015. Gary was an active member of St. John's Lutheran Church, where he served several terms as president and elder. He also enjoyed farming, hunting, fishing, crossword puzzles, telling long stories, singing silly songs and being with his family. Gary also was a member of American Legion Post 297.

Gary is survived by his wife, Brenda Bolte, Union; three daughters, Lisa Manson and husband Mike, Mendy Rush and husband Scott, all of St. Louis, and Annie Bolte, Union; two sons, Jeff Turner and wife Jaime, Union, and Paul Bolte and wife Erin, St. Charles; 11 grandchildren, Lucas, Kyle, Jacqueline, Aiden, Brady, Kaitlynn, Samantha, Ryan, Abby, Freya and Casper; five sisters, Bonnie Bolte, Linda Pohlmann and husband Dale, Janice Pohlmann and husband Glen, and Ellen Bolte, all of Beaufort, and Carol Mangrum and husband Steve, Eureka; three brothers, Glenn Bolte, Galen Bolte and Greg Bolte and wife Amy, all of Beaufort; parents-in-law, Dorothy and Anthony Kliethermes; nieces; nephews; other relatives and friends.
He was preceded in death by his parents, and one sister, Marta Bolte.
A funeral service was held Tuesday, April 18, at 11 a.m. at St. John Lutheran Church, Beaufort, with Pastor Tim Brown officiating.
Burial followed in the church cemetery.
In lieu of flowers, memorials may be given to St. John's Lutheran Church.
The Bolte family was served by Oltmann Funeral Home, Union.
Richard Bissett
Richard E. Bissett age 70 of River Road, Morgantown passed away Friday, March 3, 2017 at Monongalia General Hospital. He was born September 15, 1946 in Morgantown a son of the late Martin and Catherine Strosnider Bissett.
Richard was a retired coal miner and was also a United States Army veteran, serving during the Vietnam War. Richard loved hunting, fishing, 4 wheeling, but most of all spending time with his children and grandchildren.
Richard is survived by his wife, Judy Smallwood Bissett, two sons, Richard A Bissett and wife Shaundra of Morgantown and David Bissett and wife Marsha of the Kingwood Pike, three grandchildren, Cody, Garrett and Riley Bissett; great granddaughter, Mariah Bissett; three sisters, Violet Smallwood of Westover, Dorothy Wilson of FL and Evelyn Wallo of Morgantown, and one brother, Frank Bissett of the Grafton Road.
Richard was preceded in death by one sister, Fay Twigg and four brothers, Norman, David, Jerry, and Bob Bissett.
Friends may call at the McCulla Funeral Home, 770 Fairmont Road, Morgantown on Monday from 2-4 & 6-8 pm Monday and on Tuesday from 10:00 am until the 11:00 am funeral service with Rev. Dr. David Spence officiating. Burial will follow at Pisgah Cemetery with graveside military honors conferred by the Westover VFW Post # 9916 and the WVANG Military Funeral Honors. Online condolences may be sent to the family at www.McCulla.com.
LeRoy Glen Burgess, 71, passed away on April 16, 2013. He was an avid hunter, enjoyed watching his deer tapes, feeding squirrels, ducks & loved the outdoors. He is survived by his wife of 15 years, Rose; 10 children; numerous grandchildren; sister, Dee; brother, Larry and many other family members & friends. Visitation will be from 3-6PM on Saturday, April 20th. Funeral service will be held at 3PM on Sunday, April 21st in Brookside Grand Chapel.