Would like to thank Doug Warden for his writing of the History and allowing me to put it up on the web site... You will be enlightened when you read it...
Click link below to open... When finished click the back button on browser ( upper left hand corner of page that has an arrow pointing to the left ) to return to Home Page... Enoy...
Click on the link below to read...
Battle of Quan Tri..
Attached is a document that I came across concerning the Battle of Quang Tri. The battle started on January 31, 1968, the Tet Offensive. It mentions several guys from C Company. It is interesting to note that Rich Valles is mentioned as receiving an impact award of the Silver Star. I've talked with him and he was not aware that he got anything for that battle. He got it for crawling out, under fire, to rescue Tom Corey, who was severely wounded and keeping him alive until a medevac helicopter arrived. Also, Billy Cabaniss and Paul Wachter were unaware that they got the ARCOM w/ V for that time period.
I thought that you would like to post this on the website.
Regards, Doug
Click on Link to view whole story... /000/2/6/6/22662/userfiles/file/Battle_of_Quang_Tri_1.pdf
Dougs Book Click on Link to view whole story.. Latest update March 15, 2014
/000/2/6/6/22662/userfiles/file/Charlie_Company_Vietnam_1963-1972_Version_1_3.pdf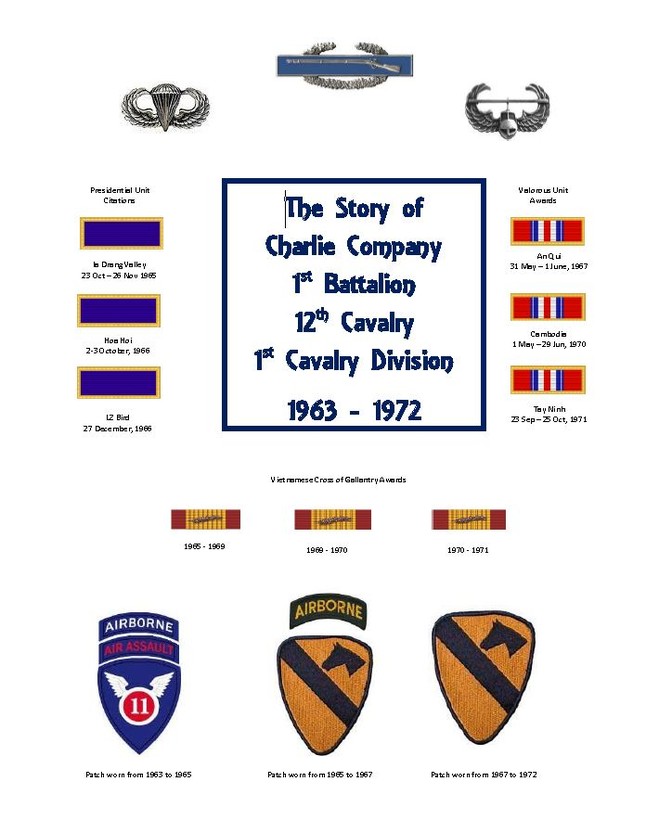 Ltc Mike Christy (ret) or as we called him Captain Christy, authored an article that appeared in Vietnam Maggazine... Click here to read the article about LZ Hereford http://www.historynet.com/last-stand-at-lz-hereford.htm
Would like to thank Doug Warden for providing the following article about Perry Benally. Click here : /000/2/6/6/22662/userfiles/file/Perry_Benally_Newspaper_Article.pdf
Lets thank Doug Warden for providing the following historical events for 1-12th Cav. Click here: /000/2/6/6/22662/userfiles/file/1-12th_History_1_Jan_1966_to_30_Jun_66.pdf
/000/2/6/6/22662/userfiles/file/1-12_Organizational_History_-_1966.pdf
/000/2/6/6/22662/userfiles/file/1-12th_Unit_History_Supplement_1_Jan_1967_to_31_Dec_1967.pdf
/000/2/6/6/22662/userfiles/file/1-12_Unit_History_Supplement_-_1969.pdf